In Caitlin's Own Words...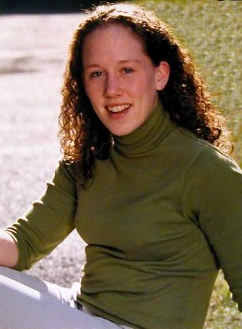 Being a child with cancer has required me to make major adjustments in my life. Now I frequently feel crummy and weak, when before I was so used to feeling strong and healthy. I have been swimming competitively for about ten years. Swimming is my life. It's helped me stay in excellent shape, and it is a great way to reduce stress and socialize with friends. While I've been on treatment for Synovial Cell Sarcoma, I have not been able to swim much because of my physical condition. I do not always have a lot of energy because of chemo, and I've had four surgeries from which it took quite a bit of time to recover.

I also started following a macrobiotic diet in January of this year. The macrobiotic diet has shown promising healing capabilities. My family and I decided we needed to try something in addition to the medical regimen I've been on because it has not been working very well. While we ate healthy before this, we followed a typical western diet: lots of dairy and poultry and dessert every night. Changing to a macrobiotic diet has been a frustrating adjustment, but I know that it is the best thing I can do for myself and therefore I am eager to see it through. There have been many more adjustments I've had to make: like not being able to go away to college this year; not being able to participate in some of the physical activities I really enjoy, like water skiing, for the risk of injuring myself; and having to go to the hospital every week for blood tests, among other things.

Despite the obvious downsides to having cancer, I don't regret my diagnosis. My having cancer has made my family even closer than it was before. I have a very large family that I have always enjoyed being with, and my being ill seems to have made everyone else feel closer. I think my illness also brought my class closer together, too. When I returned to school after being diagnosed, it seemed like everyone was watching out for me. People were kinder and more considerate. One classmate gave a speech at graduation and remarked how close our class had become because of me. Having cancer has also shown me who my true friends are. All of my friends have been there for me since day one, but a few have truly outdone themselves to make sure that I realize just how much I mean to them and am not feeling forgotten. These friends mean the world to me.

Cancer has taught me many things that will benefit my life. First, it has taught me the benefit of having a positive attitude. I have always been a very positive person, but the first time I was in the hospital for chemotherapy I roomed with a girl who, like me, had just been diagnosed. Her family was terribly negative. They acted like they had been fighting the disease for a year as opposed to a week. (I couldn't wait to get out of there!)

I learned from swimming years ago how attitudes can be contagious, good or bad. When a teammate has a negative attitude she can make everyone else act and feel the same way. My attitude sets the tone for my family, as well as my friends. If I did not maintain a positive outlook then they probably would not feel very positive about my recovery either.

Finally, my illness has given me a new perspective on what is truly important. It has forced me to adjust my life in many ways and make many sacrifices. But I have also gained a lot. I will never regret my illness because of how close it has brought my family and friends, and because it has brought all the wonderful people at Tomorrows Children's Institute into my life.


---